Skyscraper Farms of the Future
From the website...
The Vertical Farm Project @ VerticalFarm.com
By the year 2050, nearly 80% of the earth's population will reside in urban centers. Applying the most conservative estimates to current demographic trends, the human population will increase by about 3 billion people during the interim. An estimated 109 hectares of new and (about 20% more land than is represented by the country of Brazil) will be needed to grow enough food to feed them, if traditional farming practices continue as they are practiced today.
What can be done to avoid this impending disaster?
Vertical farm
The concept of indoor farming is not new, since hothouse production of tomatoes, a wide variety of herbs, and other produce has been in vogue for some time.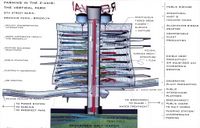 vertical ecosystem
Vertical farms, many stories high, will be situated in the heart of the world's urban centers. If successfully implemented, they offer the promise of urban renewal, sustainable production of a safe and varied food supply (year-round crop production), and the eventual repair of ecosystems that have been sacrificed for horizontal farming.
The Vertical Farm Project @ VerticalFarm.com