2005 Risks In Global Filmmaking Map
From Insurance company and consultant Aon, an annual map of risks to making movies on location around the world.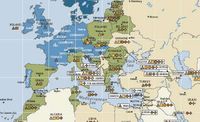 The map shows the overall risk of each country and gives the specific reason for less than perfect score:
crime, organized crime/corruption, kidnap and ransom, disease risk and medical care risk.
Surprises? USA and most of Europe are Moderate rather than low risk due to the risk of crime.
Via
boingboing
2005 Risks In Global Filmmaking Map