NEC Realizes Enhanced Version of its PaPeRo Robots
NEC has enhanced their PaPeRo childcare robots to look more like the Southpark gang.
In addition, Childcare PaPeRo, which will be presented at the EXPO 2005 AICHI, has been developed to specialize in interactions with children who have strong needs for robots. NEC will continue to improve the robot's interaction capabilities with children throughout the period of the EXPO.


The improvements include
1. Enhanced communication capabilities through improvements in various cognitive abilities.
Get away from me dumbass!
2. Enhanced entertainment skills
OOO
3. Enhanced links among robots and with other remote terminals via a network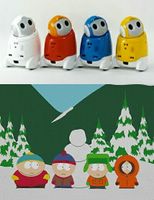 4. Performance improvement with new hardware
read more...
PhysOrg: NEC Realizes Enhanced Version of its PaPeRo Robots